About Pelham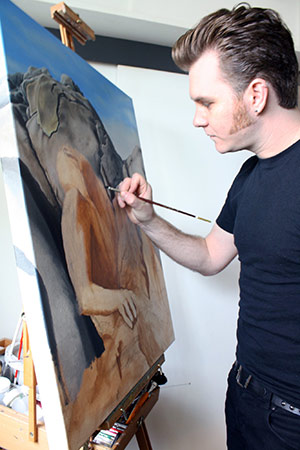 Artist's Statement

I have always been fascinated with how man's hand has shaped nature. While man attempts to work in unison with nature, realities like pollution and overpopulation force nature to adapt in its own way or reclaim its territory. Often times, the adaptations are not seen or go unnoticed. My art captures the possibilities of these moments in both believable and unimaginable ways.
The forms and compositions of nature are admirable and a great source of inspiration for my art. Having mostly lived near the California coast, I have witnessed nature in a close proximity to urban life. The constantly changing coastline, natural textures, and light's refection visually inspire me, and I think the subtle appreciation of these things is seldom in the modern age. Experiencing such natural beauty, I have a desire to express the evolutions of nature and human civilization. As an enthusiast of traditional realism, I embrace the classic idea that realism can be important for the viewer. Focusing on detailed textures, the viewer may feel the comfort of reality but is also forced into the dreamscape of the paintings.
Peaceful, natural settings are my starting point. I do many pencil sketches until I am satisfied with a theme and composition, and I often use 3D programs as tools to quickly block out forms and lighting that will help me realize the final setting. Then I can see how the environment lends itself to a dreamlike atmosphere or character. Can it sustain life? Is this something that could exist on earth the way we know it?

While looking at my pieces, my hope is that the viewer will see a sense of calmness that nature provides. At the same time, the viewer is invited to engage in a world not yet realized nor explored. The viewers' journey through newly balanced environments creates an uneasy experience unlike an everyday occurrence. Because the future and technology are surprising and fantastic, I feel my art is endlessly surreal and potentially prophetic.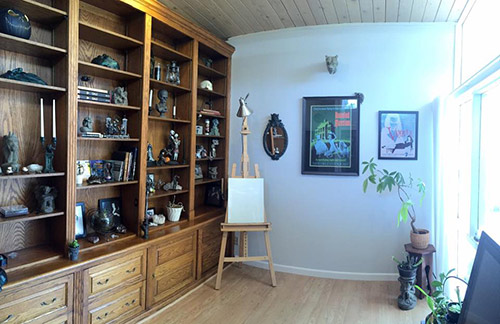 Artist's Studio
Exhibitions

2019 Maxis Employee Art Show, Electronic Arts, Redwood Shores, CA
2018 Golden Moon Gallery, San Mateo, CA - Original Art currently on display
2017 Artists' Holiday Open Studios, Dec 2nd and 3rd, Aili Ice Designs, Redwood City
2017 Pelham Houchin III & Maeve Croghan Artist Reception, June 22nd, Aili Ice Designs, Redwood City- Original Art currently on display
2016
Solo Exhibit and Reception,
May 22nd, Bamboo Hair + Body, Half Moon Bay, CA
2015
Amalgamate
, The Shop at Flywheel Press, San Mateo, CA
2013
Holiday Bizarre
, The Shop at Flywheel Press, San Mateo, CA
2013
Community
, The Shop at Flywheel Press, San Mateo, CA
2011
Palm Ave Pop-Up Art Shop
, Pierson Modern, San Mateo, CA
2008
Electronic Arts Employee Art Exhibit
, Electronic Arts, Redwood Shores, CA
1999
Pescadero Arts & Fun Festival
, Pescadero IDES Hall, Pescadero, CA